新冠病毒告示
(更新于3月25日)
亲爱的各位,
所有大型聚会从3月26日晚上11点59分起暂停
为了配合政府的最新防疫规定,我们将在3月26日晚上11点59分暂停所有的大型聚会。我们的主日崇拜从3月29日起便将转为直播崇拜。弟兄姐妹可以在家看线上直播。教会现场只会有十或以下的人数。由于教会所有大型聚会都会取消,弟兄姐妹可以参加小组聚会;但每次小组的聚会人数不可超过十人。为了确保会友们的安康,我们仍然鼓励那些感到不适的弟兄姐妹们留在家里而不要参加任何聚会。
病例编号90的离世
我们在3月21日,获知我们的会友,病例编号90,已安息主怀的消息。整体教会都与丧家一同哀悼。在3月22日,病例编号90的家属为她举行了一个简单的丧礼,过后便将她火化了。本堂也向会友们收取了帛金,以安慰丧家。虽然我们因姐妹的离世而难过,但我们也深信我们的主耶稣是胜过一切疾病与死亡的。病例编号90已经从她肉身的病痛得释放,也已经与主同在一个没有疾病、眼泪、悲哀、疼痛的地方了《启21:4》。
我们现在最大的关注就是丧家的心情。在此,我们恳请每个会友都同心为着病例编号90的家属们祷告,求神安慰他们,给他们力量来度过悲伤期,也让他们能在耶稣的爱里找到平安。
若我们当中有任何会友因着这疫情需要属灵的辅导来克服忧伤、焦虑、恐慌,请联络你们的小组长或教会的领袖。
我们在此也要澄清,病例编号90并没有在1月19日(武汉夫妇拜访教会的日期)来到我们教会。在那日期之后,病例编号90只分别在1月29日和2月5日到过教会来参加两次的小组聚会。她在这两次的聚会,并没有接触到其他被列入我们教会感染群的9位病患者。
病例编号138和151
3月7日和3月9日的新闻分别报道了病例编号138和编号151与本会有关联。为了让大家更了解情况而放心,这两位病患者并不是我们教会的会友,而是我们会友的家属。实际上,病例编号138和 151并没有出席我们的聚会。
病例编号83和91
在 2月25日,新闻报道我们的教会通过我们的会友——病例编号83 和 91,也与另一个感染群——神召会恩典堂,有关联。我们因这个发现倍感意外,且为着无意间所带给我们主内肢体的惊慌与不便而深表歉意。在此,我们也要澄清,病例编号83 和 91 自 1月21日至 2月23日都没有参加我们的聚会。换言之,他们在我们教会全面清毒后,就没有在我们当中了,直到他们被卫生部的病毒检验证实为阴性,他们才重新恢复聚会。
与本堂有关联的病例
<![if !vml]>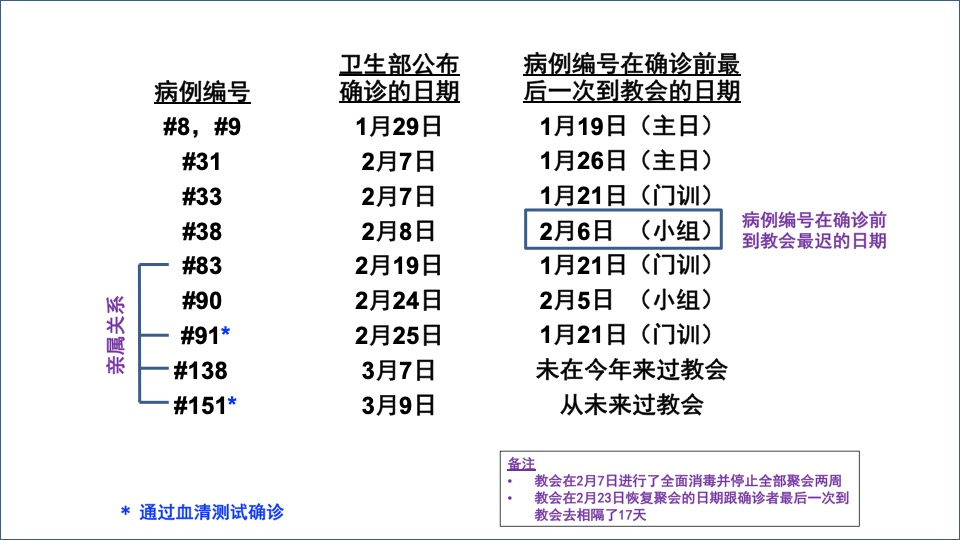 <![endif]>
欢迎各位随时游览此网页,以获取更多及时的消息和情报。
Advisory note on COVID-19
(last update on 25 Mar 20)
Dear all,
Suspension of all mass gatherings with effect from 26 Mar, 2359 hours
In line with the latest government directives to reduce the spread of COVID-19, we will suspend all our mass gatherings from 26 Mar, 2359 hours onwards. Our Sunday worship service will be live-streamed from 29 Mar till further notice. Brothers and sisters can worship online by watching the live-stream. The actual attendance in church will not be more than 10 persons. As all church mass gatherings will be cancelled, brethren can meet in small groups. However, each small group gathering must not have more than 10 persons. In order to ensure the wellbeing of our brethren, we still encourage anyone who is feeling unwell to stay at home and refrain from attending any meeting.
The Passing of Case 90
We received the saddening news on 21 Mar that our member, Case 90, has gone home to the Lord. The whole church grieves together with the family of the deceased. On 22 Mar, the family of Case 90 held a simple funeral wake for her, and cremated her. The church also collected bereavement tokens from our members, to comfort the family. Although we mourn the passing of our sister, we also believe that our Lord Jesus surpasses all diseases and death. Case 90 is now healed from her physical illness and is with the Lord at a place without sickness, tears, sorrow and pain <Rev 21:4>.
As the wellbeing of the deceased's family is our utmost concern now, the church would like to urge every member to pray earnestly for the family of Case 90. We pray that they would find strength and comfort to go through this grieving process, and find peace in our Lord Jesus' love.
If any of our church members needs spiritual counselling in dealing with the grief, anxiety and fears arising from the COVID-19 situation, please approach your cell group leader or any of the church leaders.
We would also like to clarify that Case 90 did not come to church on 19 Jan (the day that the Wuhan couple came). Beyond that date, Case 90 had only been to church on 29 Jan and 5 Feb to attend two small group gatherings. In these two gatherings, she had no contact with any of the other 9 confirmed cases that were linked to our church cluster.
Cases 138 and 151
The news reports on 7 Mar and 9 Mar had mentioned respectively that Cases 138 and 151 were also related to our church. To allay any concerns, we would like to clarify that Cases 138 and 151 are not members of our church, but relatives of our church members. In actual fact, Cases 138 and 151 do not attend our church meetings.
Cases 83 and 91
On 25 Feb, it was reported on the news that our church was linked to the cluster at Grace Assembly of God (AOG) through our members, Cases 83 and 91. We were astonished by the discovery and apologise for any unintended panic and inconvenience caused to our fellow brethren in Grace AOG. We would also like to clarify that both Cases 83 and 91 had not visited our church since 21 Jan to 23 Feb. As such, after our church had been disinfected, they had not attended any meetings. It was only after they were tested negative for the coronavirus that they resumed attendance.
Overview of Cases Linked to Us
<![if !vml]>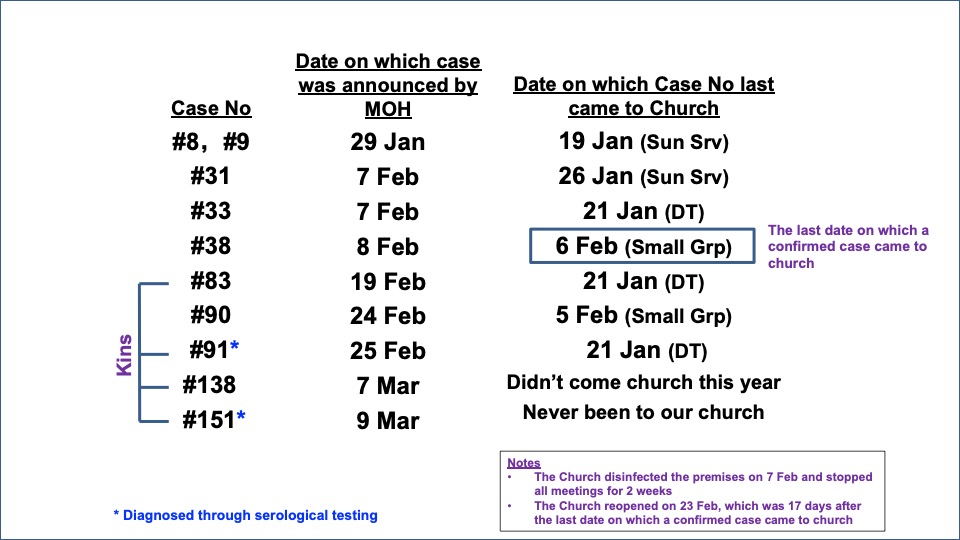 <![endif]>
Do check back on this webpage for more updates and information.